Vetting Process
Employee Vetting and Screening for
Commercial and Private Companies
To British standard 7858.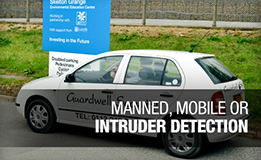 An essential element of any working environment is the employment of staff whose integrity and character is beyond doubt.
This is particularly important when placing personnel in positions of trust.
There is only one benchmark for performing candidate and employee screening within the UK and this is the British Standard 7858, Security Screening of Individuals Employed in a Security Environment. It "gives recommendations for the security screening of individuals to be employed in an environment where the security and safety of people, goods or property is a requirement of the employing organisations operation and/or where such screening is in the public interest".
The revised standard is now in line with the Data Protection Act 1998 and the Security Act, 2001. Three questions that every employer should ask themselves: Is everyone who works for me who they say they are, qualified to the degree they imply, and have good references?
Guardwell Security carry out the vetting and screening of current and future employees to the BS 7858 level. This level includes the following:
Confirming a person's National Insurance number and date of birth.
Confirm their work and education details going back 10 years as minimum.
Confirm personal and professional references.
Check for any bankruptcy and/or outstanding court judgements for debt.
Confirm their proof of identity, i.e. passport, visa or work permits and if applicable, military service details